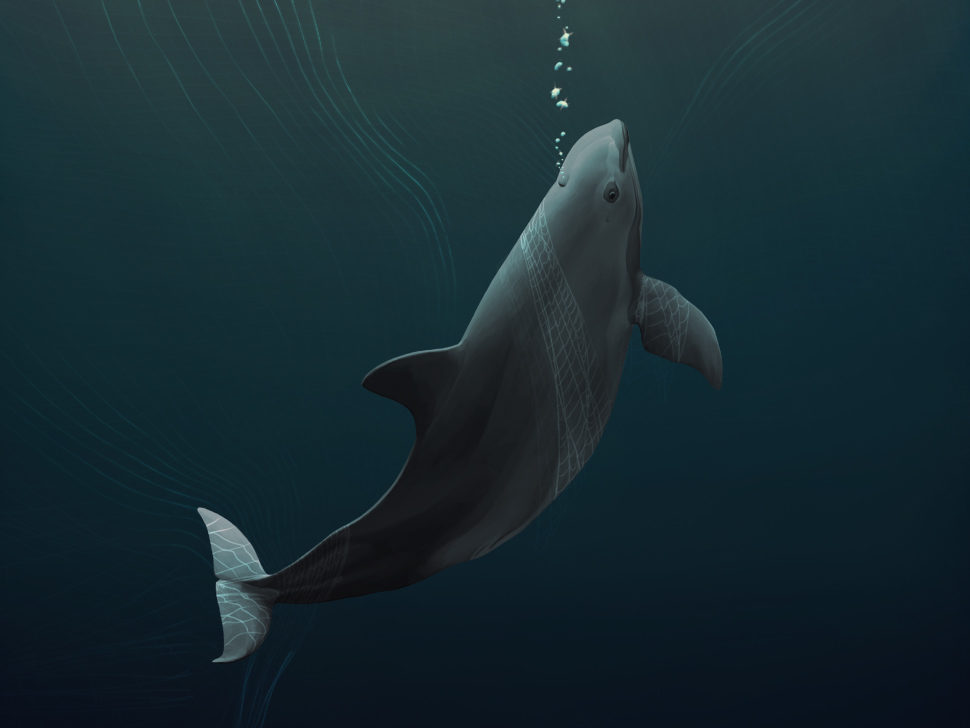 Photo ID to Estimate Size of Remaining Population
In Mexico's Sea of Cortez (Upper Gulf of California), a new survey effort is underway to count the remaining vaquita with a combination of traditional visual surveys, photo-identification of individuals and acoustic surveys through a hydrophone array.
More about the vaquita
Related Articles
This multinational effort is led by the National Commission of Protected Natural Areas (CONANP), a team from the Whale Museum in La Paz (Museo de la Ballena), the Mexican Navy, the Sea Shepherd Conservation Society, and an international team of scientists and researchers.
The vaquita is listed on the IUCN Red List as "critically endangered". Extinction is imminent and widely believed to be the likely outcome should efforts fail to save the species.
In March, the International Committee for the Recovery of the Vaquita (CIRVA) published a report which concluded that fewer than 22 vaquita remained alive during the summer of 2018. More recent estimates based on the annual rate of decline put the remaining population at just 10 individuals or less.
Between August 19 and September 3, 2019, observers found six live vaquita. An earlier survey in the fall of 2018 also spotted live vaquita, and among them at least one calf ─ evidence that the species was still reproducing. The recent sightings give hope to conservationists fighting to save the species from extinction, but that careful optimism is contrasted with regular reports of continued gillnet fishing activity in the vaquita's habitat.
Government Promises to Commit Additional Resources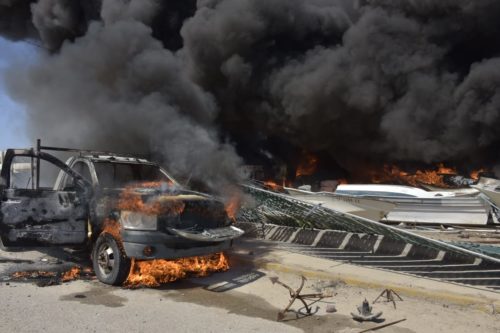 In late September, a temporary ban on all gillnet fishing expired, allowing for what the government intends to be a strictly monitored and tightly regulated shrimp fishery. To ensure compliance with the law, the government sent federal inspectors along with navy personnel to the region to help with checks and enforcement. The Mexican government also recently committed to sending 600 additional personnel as backup, specifically meant to bolster efforts to protect the vaquita from the illegal totoaba fishery.
In a recent success for the government, federal inspectors removed a massive gillnet of one thousand metres in length which they assume was set to catch totoaba. But while frequent seizures of active fishing gear show the government's commitment, they are also an indication that illegal fishing continues despite increased efforts to end the practice.
The government is also under renewed pressure from local fishermen. Many in the small communities along the Sea of Cortez depend on fisheries as their main source of income. Payments that were supposed to compensate fishermen for not being able to fish stopped abruptly last year after President Andrés Manuel López Obrador took office. Efforts to replace harmful fishing gear with more sustainable alternatives have also stalled as fishermen complain that the only gear approved for fishing isn't working for them. López Obrador has promised to address these issues, but fishermen are feeling left out of the conversation and keep airing their frustration on social media.
Mexico Under Pressure to Deliver on Promises
In July, The UNESCO World Heritage Committee designated the area that includes the vaquita habitat as a "World Heritage site in danger", starting a countdown for Mexico to deliver on its promises to protect the vaquita and the totoaba or risk losing the World Heritage status for the Gulf of California.
More pressure also comes from CITES, a multilateral treaty to protect endangered plants and animals to which Mexico is a party. At the last meeting of the parties of the agreement (CITES CoP18) in Sri Lanka this August, Mexico was ordered to improve its enforcement of existing laws by November 30, 2019 and implement a list of measures aimed at ending the illegal trade with totoaba products or risk sanctions.
Mexico has implemented many measures since the vaquita was first recognized as "endangered" on the IUCN Red List in 1990, but so far none have had any lasting effects. Illegal fishing continues to be an issue, and vaquita are drowning as by-catch in nets set for totoaba. Scientists believe that the vaquita can recover even from its very low numbers ─ but time is running out.
References and Further Reading
Show all references