About Harbour Porpoise Research and Conservation
Harbour porpoise (Phocoena phocoena) are among the smallest of the whales, porpoises and dolphins (cetaceans) and of all species of porpoise they are the most widely distributed. They are frequently seen in shallow bays, estuaries, and tidal channels, and rarely at depths greater than 200 m. Harbour porpoise are heavily impacted by accidental entanglement in fixed fishing nets in many parts of their range, and they also appear to be sensitive to the effects of other human activity, such as noise.
Conservation initiatives are most successful where enough data exists to support them. With our research we are trying to answer some important questions, and to fill in the data gaps.
Coastal Waters Harbour Porpoise Research Study
Study Overview
Harbour porpoise are known to use the inshore waters of British Columbia, yet little is known about habitat use and seasonal abundance. Previously conducted studies have taken place in the waters of the Gulf Islands and southern Vancouver Island (Hall 1996, Hall 2004, Hall 2011).
To date, there have been no harbour porpoise habitat use studies conducted in Howe Sound, making the Coastal Waters Harbour Porpoise Research Study the first of its kind. This is also the first harbour porpoise study in British Columbia to use land based observation sites.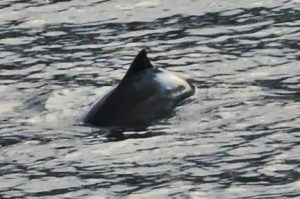 The study is designed to provide the basis for a long-term monitoring project for harbour porpoise in this region of British Columbia and to serve as a framework for future studies.
The Coastal Waters Harbour Porpoise Research Study also aims to bridge the gap between science and the public as in addition to the research, observers will engage the public to raise awareness of harbour porpoise as a species and the conservation issues porpoise face around the world. The study is being conducted under the guidance of Dr. Anna Hall.
Study Objectives
We wish to answer the question whether harbour porpoise use the inshore waters of Howe Sound on a year-round basis. We also want to determine whether there are any seasonal fluctuations in the numbers of harbour porpoise, and whether cow-calf pairs are present.
I have seen you at Whytecliff Park. What are you doing there?
Harbour Porpoise in Howe Sound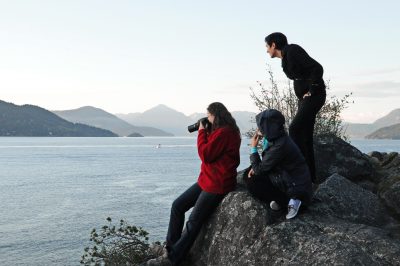 We have identified Whytecliff Park as one of the few locations from which wild harbour porpoise can be observed in their natural habitat from shore. We collect data, take photographs and monitor these animals to learn how harbour porpoise use this habitat. We also approach members of the public to make them aware of the presence of these enigmatic animals.
Understanding how harbour porpoise use a particular habitat, and how many animals there are, is important in order to protect harbour porpoise and their habitats.
Porpoise watching and interpretation
We also regularly invite park visitors to join us for "porpoise watching" from Whytecliff Park, where members of our outreach team interpret these sightings and introduce harbour porpoise to a broader audience. Most people we approach have never seen a harbour porpoise before, or have mistaken porpoises for dolphins. Raising public awareness is part of our mission to protect porpoises and their habitats. Enabling park visitors to see these animals in the wild is an excellent way to accomplish that.
We are looking for volunteer observers to help us monitor harbour porpoise in Howe Sound. Shifts are flexible; training is provided on-site.
While we conduct our surveys only when weather conditions allow for sufficient visibility, our volunteer observers work any day of the year and are exposed to the weather. Marine mammal observation requires attention to detail and long periods of focused attention.